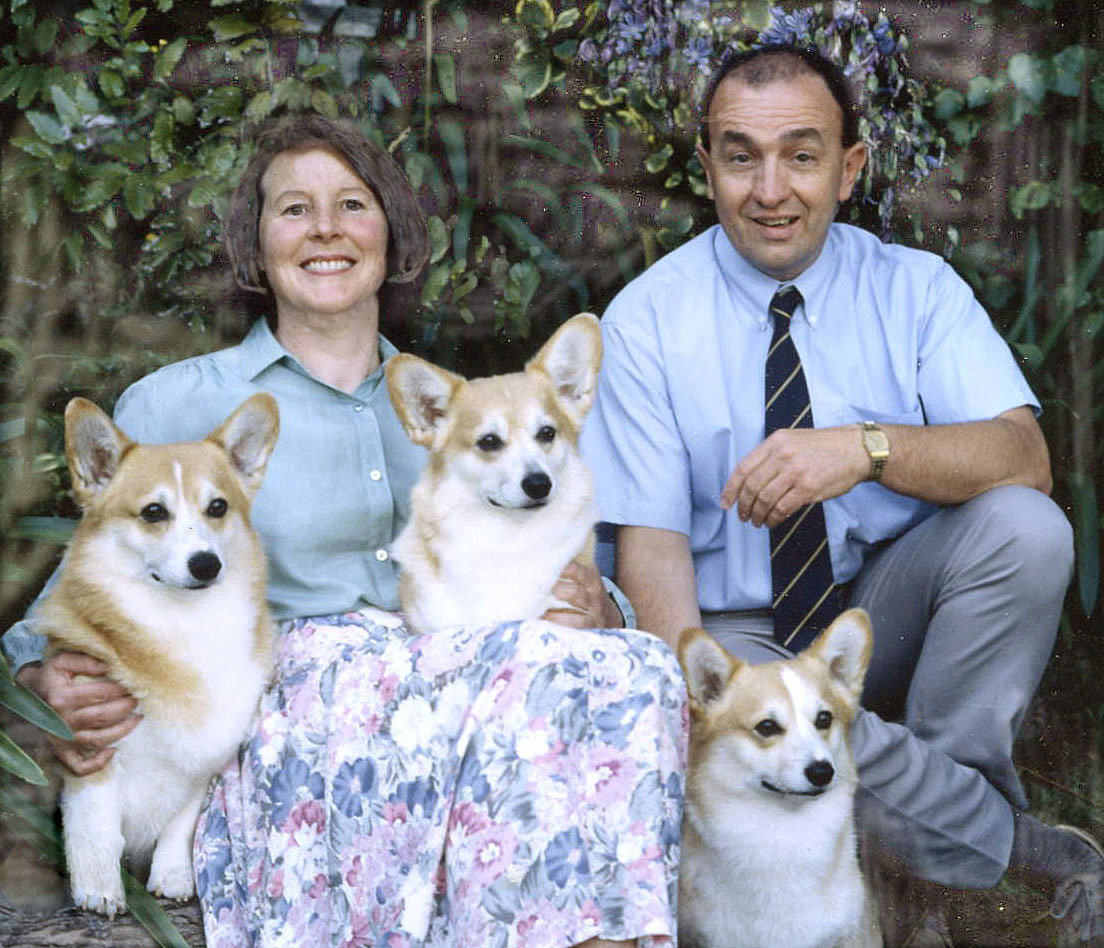 Corgis were not easy to obtain when I chose the breed and my first Pembroke, "Heidi", came in1960 after a very long wait.
The "Anwyl" prefix was registered in New Zealand in 1961 when I bred a litter from her, but by then I had attended a specialty show and raised my sights! I ordered a bitch puppy from the famous Glyndwr Kennels and Glyndwr Dark Intrigue "Gaye" became the foundation bitch for Anwyl. "Gaye", a tricolour grand-daughter of both Eng Ch Maracas Masterpiece and Int Ch Sealord of Wey was a lucky buy! By 1963 two of the daughters from her first litter were champions and she was NZ's Top Brood Bitch. It is a matter of pride to us that the latest baby here Anwyl S'No Illusions traces back 12 generations to "Gaye".
"Heidi" was spayed and we started obedience where she had lots of success and added a CDX to her name. I continued to put obedience titles on many of our show champions until quite recently.
In Queensland, Bruce was following much the same path. He got his first corgi as a family pet at about the same time as I got "Heidi", but he also moved on from his first pet male and purchased foundation stock from Beryl Cornwell's Aurglyn Kennels in Sydney. Both Ch Aurglyn Mischief Mask and Ch Aurglyn Kingcade were prolific winners in Queensland in the late 1960s.
As we were breeding with similar bloodlines and had the same priorities for the breed it isn't surprising that we met, married and joined forces! Litters and showing were strictly limited for many years while I qualified as a Pharmacist, Bruce as a Veterinarian (now a Veterinary Ophthalmologist) and we raised three children.
It has always been more important to us to maintain a strong breed line for the future, rather than to produce one-off winners for today. We continue to select for intelligence and trainability as well as for soundness and good looks. While show ring winning, for us, is merely the by-product of true to standard, happy Pembrokes, we have an enviable record of successes over the years and some of the stars of the past can be viewed on the "Memories" page. We have both judged at Specialties in England, America, most States of Australia and many times in New Zealand.
Over all the years, our main aims have never changed, we still want the perfect all round Corgi – sound, healthy, clever and trainable, full of personality and lovely to look at!
Litters, still very limited in number, are always born and raised in the house as part of the family, and our puppies are very well socialized and started on their training before leaving us. For the last ten years we have lived in the Hills area north west of Sydney, where our Corgis have seven acres to run free, chase rabbits and play.
"Anwyl" is welsh for "beloved"